Mobility Resources: exercise, balance, managing pain…
Therapy In Your Home – OT, PT, ST has therapists who know the importance of movement / exercise / balance for staying well, whether you are at home, moving out of your home or staying in bed.   We emphasize the importance of movement for preventing falls, depression, diabetes, cancer, heart disease, among other benefits.… Movement's benefits are amazing. Even moving while sitting has benefits, especially if you are not leaning on the back of the chair.  If you can, the most important thing you can do is STAND UP! More often!  (Call to find out more about this research)
"Those who think they have no time for exercise will sooner or later have to find time for illness" – Edward Stanley
"Objects at rest tend to stay at rest" – Newton's Law
Included here are ideas to encourage you to move more
Local programs (These links will take you off this website. The information is maintained by the program so it should be current) Please help keep this site up to date with suggestions.
Fallen and can't get up?  Here is a video with some help for how to recover:
Practical ideas and devices available to you
GoGoGrandparent

, call (855) 464-6872,  allows you to use Uber and Lyft without a cell phone.  You use your land line to set up an acct and call for rides, and use the phone at the place where you are to call for a ride home.
Stand Lifts

, such as those by Invacare or EZ Lifts, for patient transfers are easier than a full mechanical patient lift, if the person can sit up first.  I hope Medicare covers it for home use soon.  Call your legislator to advocate for your needs!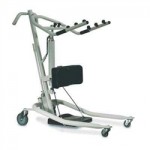 Over the Toilet Walker:

  A way to put the walker over the toilet so you can get up again.  You are now free to go into the community without feeling that you might get stuck.   Free2Go

LiftSeat Power Toilet Lift:

  http://www.liftseat4home.com

U-Walker, designed for people with Parkinson's Disease.

 The brakes are always on, unless you squeeze them to go. Also more stable than most walkers.

Hands Free / NO FALL Walker:

  A walker that allows you to stand straighter and anchors the body's center of gravity to restore capabilities and function.  You can be hands free while it supports you.  It won't roll away from you.  You stand facing out, instead of in.  Remember Mulholland Walkers?  See excellent videos and explanations at   MyLifeGlider.com

 
New inventive mobility ideas: (let us know when you see a good one that we should post here!)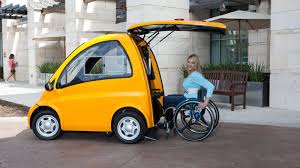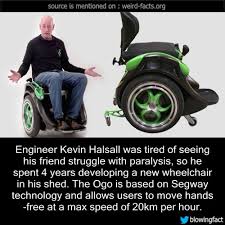 An article on a unique idea.   Other Segway wheelchair ideas available when your search online.